Updated on 26/10/2020
Self-Employment Income Support Scheme grant extension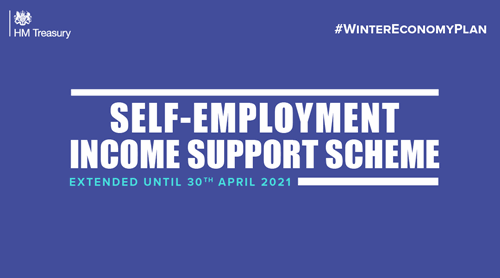 As part of the Winter Economy Plan, the Government announced an extension to the Self-Employed Income Support Scheme (SEISS) on 24 Sept 2020. 
The SEISS Grant Extension provides critical support to the self-employed. The Government are providing broadly the same level of support for the self-employed as is being provided for employees through the Job Support scheme. The extension will provide two grants and will last for six months from November 2020 to April 2021. Grants will be paid in two lump sum instalments each covering a three-month period.
The first extended grant will cover a three-month period from the start of November 2020 until the end of January 2021. HMRC will provide a taxable grant covering 40% of average monthly trading profits, paid out in a single instalment covering three months' worth of profits, and capped at £

3,750

in total.
(On Thursday 22 October, the Chancellor announced that the grants

 will increase from £1,875 to £3,750

)
The second extended grant will cover a three-month period from the start of February 2021 until the end of April 2021. HMRC will review the level of the second grant and set this in due course.
The grants are subject to Income Tax and National Insurance Contributions. So far more than two million people have applied, but HMRC estimates that a further 1.4 million are eligible and could risk missing out.
Who is Eligible?
To be eligible for the scheme, self-employed individuals, including members of partnerships, must meet the following criteria:
Currently, be eligible for the first and second SEISS grants (Mar – Aug 2020)

You must have filed a tax return for 2018/19. This means you must have been self-employed prior to 6 April 2019.
You must earn more than 50% of your total income from self-employment. (Income from property, dividends, savings, pensions and taxable benefits all count as "non-trading income" and, to qualify for the SEISS, the total of these combined must NOT exceed 50% of your total income.)
Your average trading profit must be less than £50,000/year. HMRC takes into account your tax return for 2018/19, 2017/18 and 2016/17. You'll be eligible if on average over the three years you earned less than £50,000 and made more than half your income from self-employment.
You don't have to have claimed the previous grants. As long as you meet the eligibility criteria, it is possible to apply for just one or any combination of the four grants. 
Declare that you are currently actively trading and intend to continue to trade
Declare that your business has been impacted by reduced demand due to COVID-19 in the qualifying period. The qualifying period for the first grant is between 1 November and the date of claim. You do not need to prove coronavirus impact, HMRC will check for fraudulent claims.
How do I apply?
It's not open yet, HMRC will provide full details about claiming and applications in guidance on gov.uk in due course.
Source:
(22 Oct) Self-Employment Income Support Scheme grant extension – HMRC
(22 Oct) Coronavirus Self-Employed & Small Limited Company Help - Money Saving Expert
Updated on 15/5/2020
Local Authority Discretionary Grants Fund to support small and micro businesses
Following on from the Governments Business Grant Support Scheme, which provided grants of between £10,000 and £25,000 for small businesses holding a business rate account, further funding has been announced by Central Government in order to assist those businesses who have been unable to access support elsewhere.
The new Local Authority Discretionary Grant Fund will enable Local Authorities to provide funding to small and micro businesses who suffered a significant fall in income due to the COVID-19 crisis.
Local authorities will prioritise the following types of businesses for grants:
Small businesses in shared offices or other flexible workspaces. Examples could include units in industrial parks, science parks and incubators which do not have their own business rates assessment;
Regular market traders with fixed building costs, such as rent, who do not have their own business rates assessment;
Bed & Breakfasts which pay Council Tax instead of business rates; and
Charity properties in receipt of charitable business rates relief which would otherwise have been eligible for Small Business Rates Relief or Rural Rate Relief.
Local authorities may disburse grants to the value of £25,000, £10,000 or any amount under £10,000. The value of the payment to be made to a business is at the discretion of the local authority. Grant income received by a business is taxable. Clarity and criteria for determining the appropriate level of grant to be further announced by local authorities.
Eligibility
This grant funding is for businesses that are not eligible for other support schemes. Businesses which have received cash grants from any central government COVID-related scheme are ineligible for funding from the Discretionary Grants Fund, such as a Small Business Grant Fund or Self Employment Income Support Scheme Grant.
Businesses who have applied for the Coronavirus Job Retention Scheme are eligible to apply for this scheme. Only businesses which were trading on 11 March 2020 are eligible for this scheme.
What to do next
Each local Authority will look to assess their local needs and how best to support eligible businesses and they will be publishing further information on their websites in the coming days. Look for your Local Authority's Business Support website for news and updates as to their criteria and how to apply.
(13 May) Gov guidance on the Local Authority Discretionary Fund
Updated on 6/5/2020
What is the Self-Employment Income Support Scheme (SEISS) announced by the UK Gov on 26 Mar 2020?
Taxable grant of 80% of average monthly profits over the last 3 years, guaranteed for at least 3 months of up to a maximum £2500 per month. This may be extended if the Government deem is necessary.
The business/person/partner can continue to trade and earn profit in addition to the grant.
The grant is not repaid, however it will be counted as taxable income towards your 2020/21 tax return
You must be trading in tax year 2019/20 and still trading in 2020 (or would be except for the period during COVID19)
The claims service will open on 13 May, those eligible will have the money paid into their bank account by 25 May, or within six working days of completing a claim, payments will be backdated to March.
The grant is subject to National Insurance contributions. You can still claim Universal Credit, but any grant will be included as earned income. If you earn below the lower class 2 NI threshold of £6,365, it may pay less than Universal Credit 
Who is eligible?
Deliverable and open to the self-employed with trading profits of up to £50,000.
Available to people who make the majority of their income from self-employment
To minimise fraud only those who are already in self-employment and have a 2019 tax return can apply.
If you are a limited company paid via PAYE/dividend, you are not eligible, but may be eligible for the Job retention scheme and should apply if a furloughed worker.
What do I do now?
Check your eligibility for SEISS using the online checker: https://www.tax.service.gov.uk/self-employment-support/enter-unique-taxpayer-reference
Enter Unique Taxpayer Reference (UTR) and National Insurance (NI) Number
If eligible, sign in Government Gateway account to update contact details (Tel & email)
HMRC will contact you with the provided contact in Government Gateway account once the claim system is available
Please be aware you will only be able to claim using GOV.UK online service (SCAM ALERT – ensure email from ".GOV.UK source")
Make sure you have submitted your Self-Assessment tax return for the tax year 2018/19. 
Please note that any amendments made after 26 March 2020 will not be taken into account if you have already submitted a return for that year. HMRC will look at late submissions for 2018/19 to combat exaggerated claims.
You need to confirm to HMRC that your

BUSINESS HAS BEEN AFFECTED

. HMRC will use a risk based approach to compliance.
Only contact HMRC if you cannot get the help you need online
How much can you claim?
HMRC will access your eligibility for the grant based on the total income and trading profits on your tax returns.
Figures based on turnover (total trading income) then deducting business expenses and capital expenditures (including capital allowances for depreciation) and flat rate allowances (e.g. working from home).
HMRC will not deduct losses carried forward from previous years nor take off your personal allowance.
If you run more than one business, you can offset a loss from one business against another and HMRC will look at net income from across the businesses.
You can still trade and receive income, but remember if profits are higher than normal, you need to be aware of the point "your business has been affected", for which HMRC guidance has not yet been released.
Trading profit must be below £50K and half or more of total income for 2018/19 or an average of your last 3 years total income.
Example 1: Trading for more than 2 years
£20,000 profit in tax year 2016/17
£30,000 profit in tax year 2017/18
£30,000 profit in tax year 2018/19
Average trading profit for the 3 tax years would be £26,667 (£20,000 + £30,000 + £30,000 = £80,000 and divide by 3) As the grant is 80% of your average monthly trading profit, HMRC will pay £1,778 for up to 3 months (£26,667 divide 12 = £2,222 X 80% = £1,778 per month)
Example 2: Trading for less than 2 years
£22,000 profit in tax year 2017/18
£28,000 profit in tax year 2018/19
Average trading profit for the 2 tax years would be £25,000 (£22,000 + £28,000 = £50,000 and divide by 2) In this case, HMRC will pay £1,667 for up to 3 months (£25,000 divide 12 = £2,083 X 80% = £1,667 per month)
Example 3: Income from self-employment and employment (PAYE income)
£10,000 trading profit and £10,000 PAYE income in tax year 2016/17
£8,000 trading profit and £10,000 PAYE income in tax year 2017/18
£18,000 trading profit and £7,000 PAYE income in tax year 2018/19
Average trading profit for the 3 tax years would be £12,000 (£10,000 + £8,000 + £18,000 = £36,000 and divide by 3) If you have filed a tax return over the 3 years, you will still be eligible as the income from self-employment is the majority of your 3 years total income. In this case, HMRC will pay £800 for up to 3 months (£12,000 divide 12 = £1,000 X 80% = £800 per month)
What support is available if I am not eligible?
Deferral of Income Tax payments – self-assessment income tax payment on account due on 31 July 2020 are deferred until 31 Jan 2021 (No application is required but direct debit mandates need to be cancelled)
Deferral of VAT payments – payments due before 30 June 2020 will not now need to be made until 31 March 2021. Please visit GOV.UK for more info.
Self-employed people can access the Business interruption loans
Self-employed people can now access Universal Credit in full. An advance payment can be given almost immediately (up to 10 days) after the claim.
Local authorities are in receipt of government money to help the most vulnerable with reductions in council tax
Other grants for businesses that pay little or no business rates
A self-employed person living with a non-working partner and 2 children in the social rented sector can receive Welfare support for up to £1800 per month (reducing if you have more than £6,000 in savings, stopping completely if more than £16,000)  
As this is being administered by HMRC please consider the following:
Did you file a 2018/19 self-assessment tax return by the 31 January 2020? If not, please do so by 23 April 2020.
What were your income for the last financial year and the previous 3 years?
Have all your self-assessment details to hand, UTR number, government gateway logon and password and activation code.
Are all your contact details up to date on the self-assessment website?
Are your National Insurance contributions up to date? Have you paid NI in advance? - This may come into play if you are Self Employed and on Maternity Leave.
Think about what you will do until you can receive these payments.
To find out how the UK Government and The Business Growth Hub are supporting businesses through the COVID19 crisis please visit the following: 
(4 May) Self-employed invited to get ready to make their claims for coronavirus (COVID-19) support
(14 April) How HMRC works out total income and trading profits for the Self-employment Income Support Scheme
(14 April) Claim a grant through the coronavirus (COVID-19) Self-employment Income Support Scheme
Business Growth Hub COVID-19 ADVICE AND RESOURCES
Updated on 4/5/2020
What is the Bounce Back Loan announced by the UK Gov on 27 Apr 2020?
Bounce Bank loans have been introduced by the Chancellor to support small businesses impacted by COVID-19 outbreak.
Unsecured loans are available between £2000-£50,000 (up to a maximum of 25% of turnover), repayable over a period up to 6 years. 
The loans are 100% backed to the lender by the Government. The borrower will remain liable for the debt.
A standard rate of 2.5% interest per annum is charged from month 13 onwards, with no further fees.
A Business will not need to make a payment for the first 12 months.  The Government will pay the first year's interest and any fees.
Loans for up to £25000 are NOT regulated by the Consumer Credit Act 1974 or Financial Services and Markets Act 2000, but lenders must still comply with relevant regulations.
Applications will still be subject to standard fraud, anti-money laundering, and Know Your Customer checks.
How much can I borrow and what will I repay?
Loans are available between £2000-£50,000, repayable over a period up to 6 years.
A Business will not need to make a payment for the first 12 months. The Government will pay the first year's interest and any fees.
The Government are working with lenders to ensure a low rate of interest.
Am I Eligible?
You must be based in the UK
You have been negatively affected by coronavirus
There may be restrictions if you are a Business in Difficulty on December 31st
How do I apply?
For more information, please visit the UK Government's website. 
https://www.gov.uk/government/news/small-businesses-boosted-by-bounce-back-loans    
https://www.gov.uk/guidance/apply-for-a-coronavirus-bounce-back-loan#eligibility
If you wish to talk to us for additional support, please call us on:  0161 667 6900 or email us at:  info@enterprising-you.co.uk
Updated on 28/4/2020

Please see some of the questions we're being asked – as we get further questions, we will update this with the newest at the start.  If you have any questions, please do contact us
I am in a partnership, what happens to me?
If you meet eligibility criteria based on your individual tax return, you will obtain support.   If one partner has earnings above £50,000pa or joined after April 2019, then that individual would not be eligible.
I am a Company Director, what can I do?
If you're a director of your own company and paid through PAYE you may be able to get support using the Job Retention Scheme as the self-employment scheme does not apply to company director's PAYE salary. Also, dividend income will not be counted.  
Based on the Gov update on 20 Apr, we have listed out some key points in this factsheet for your reference.
It is advised that further professional advice or government direction is obtained prior to taking action in this situation.   
I am self-employed café owner and have closed my shop and my staff not working because of COVID-19. What shall I do?
If you are the rate payer, your local authority will contact you directly with regards to the Business Rates Grant, which offers eligible businesses non repayable grants of £10,000 - £25,000 depending on your rateable value, business sector and rate relief.   Do not contact the council directly by phone, but access information from their website.
Your staff may qualify for 80% of their salary under the Job Retention Scheme. You need to make them furloughed on your payroll system for support for the job retention scheme.
If you have registered for self-assessment for the year ending April 2019 and earn below £50K, you should await contact from HMRC regarding the self-employment support.
I am a hairdresser renting a chair in a salon on a self-employed basis, what kind of support can I get?
As you are not the rate payer, you would not qualify for the Business Rate Grant, however the salon owner may be, and you could discuss your current arrangements with them.
If you are a sole trader and meet the eligibility criteria discussed above, HMRC will contact you as to how to claim your support.
Government has introduced new measures to safeguard the commercial tenants from aggressive debt recovery actions during the coronavirus pandemic. For more info, please refer to this factsheet.
I started my self-employed business in May 2019, what can I do?
You won't be eligible for the scheme. You must have filed a tax return for 2018/19. This means you must have been self-employed prior to 6 April 2019. If you were due to file a 2018/19 tax return but missed the deadline this year, you'll have until 26 April to submit your tax return and then you can access the scheme. 
I have self-employed and employed work – what do I do?
Your majority income (>50%) need to be earned from self-employed to be eligible for this scheme.
I'm self-employed but my partner/husband/wife is still employed and earning a wage – what are my options?
You can still access the grant scheme, independent of the status of your partner or other household members.
Do I have to stop working to be eligible?
Unlike the employee scheme, you can continue working and earning if you're able to. This won't have any impact on you getting the grant.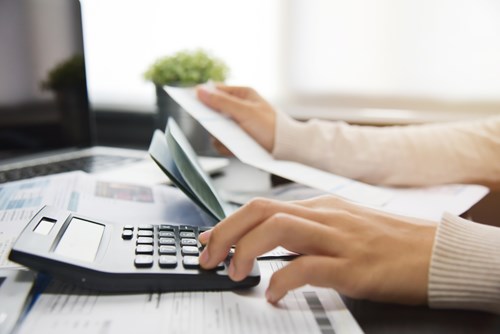 There were also some questions about Furlough as follows
How many staff can I furlough, and for how long?
There is currently no limit on the number of staff that can be furloughed, and employees can only be furloughed for the duration of the Job Retention Scheme, which lasts for three months starting from 1 March 2020. The scheme could also be extended if the government deems this necessary.
Do I need employees' consent?
Yes, employees must be consulted and agree to be furloughed as it is a change to the terms and conditions of their employment and therefore still subject to existing employment law.
Are part-time workers eligible?
Yes. Employees on a full-time, part-time, agency, flexible or zero-hours contract are eligible for the furlough scheme. Any employee must have been on the company's PAYE payroll from 28 February 2020. The scheme also covers any employee who was made redundant since 28 February 2020, if they are rehired by their employer. 
What if the employee has more than one job?
If your employee has more than one employer, they can be furloughed for each job. Each job is separate, and the cap applies to each employer individually.
Can staff still work for me or another employer while furloughed?
To qualify for the scheme, staff cannot continue to work for the employer while furloughed. The grants also do not cover the wages of employees who work reduced hours due to the virus. The staff may be able to work for another employer as long as it does not breach these contractual obligations.
"If at the weekend you want to volunteer or work somewhere else like in a grocery store, that would be fine as long as it is outside your 'normal hours',". "But when you go back to work, you have to make sure the working time regulations aren't being breached, you oblige by your contractual hours and that you're getting enough rest."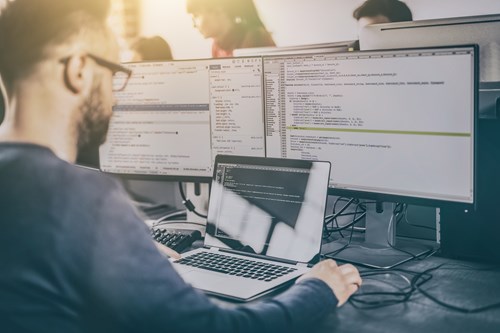 There were also some questions on the following site which may be useful
Source: https://www.moneysavingexpert.com/news/2020/03/coronavirus-self-employed-and-employment-help/
What can I do if I'm eligible but can't wait until June?
Even if you are eligible for help from this scheme, it's unlikely you'll see any cash in your bank account until June at the earliest, which for many will be a struggle.
In the meantime, as above you can try applying for a business interruption loan if eligible, or universal credit.
I've only become self-employed this year and haven't had the chance to file a tax return yet – can I apply?
No, unfortunately not. If you weren't able to file a tax return for self-employed earnings in 2018/19, you won't be eligible. You may consider applying for universal credit if you experience any financial difficulties.
What if my business was just getting started and I made a loss?
The grant you'll get is based on your average monthly profits – so if you made a loss, sadly you won't be able to get anything. However, check other support available, such as a business interruption loan or universal credit.
Will the scheme be extended beyond the next three months?
It's possible – while initially there will be a payment in June to cover March, April and May earnings, the Chancellor said it may be extended. If it is the case, we don't yet know whether payments would be made monthly – we'll be following this closely. 
What if I get a grant then have a really good year – will I need to pay it back? 
The Treasury hasn't said there will be a 'clawback' of the grants if you end up with high overall earnings in 2020/21 – but we're double-checking and will update this story when we know more.
Please click here to download the above info in pdf. If you have any questions, please do contact us